Next →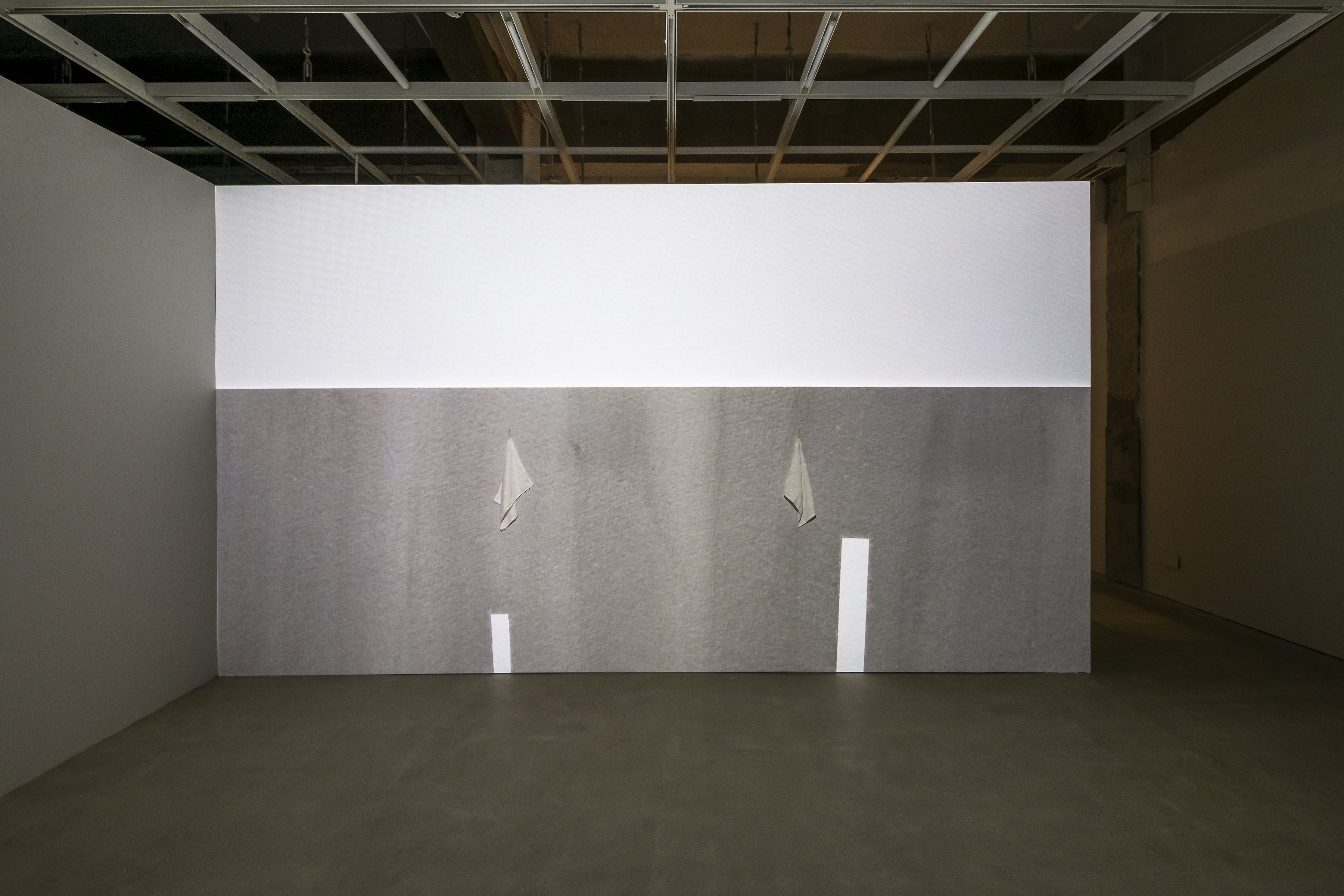 /
一一,2022,錄像裝置、白色棉布兩條,551x310cm
one and one, 2022, video installation, two white towels, 551x310cm
〈一一〉,是由兩條懸掛於牆上的白毛巾與投影在上面的影片所構成。
在這件的作品中,我將墨畫轉換成投影,畫的塊面以光線的方式投射在牆面上,隨著紙張的位移而呈現出時光般的流動變化。而掛於牆上的兩塊白色小方巾,如同經歷染色褪色的歷程,在時間中進行著對話。
我想透過這樣一種新的水墨空間與時間,以及在觀影過程中不同元素的整合,來回應我們所處的當代東亞生活經驗,對我來說,如何在當代的生活感知之中去挖掘、探索真實,以及延續傳統文化中有價值的部分,是我一直持續工作的方向。
"One and one" is composed of two white towels suspended on the wall with a video projection overlaid on them.
In this work, I transform ink painting into a projection, with the painted blocks being projected onto the wall as beams of light, presenting a flowing change akin to the passage of time as the paper shifts. The two white towels hanging on the wall, like objects undergoing a process of dyeing and fading, engage in a dialogue over time.
Through this new ink space and time, and the integration of different elements in the process of viewing, I aim to respond to the contemporary East Asian life experience we find ourselves in. For me, continuously exploring and uncovering the aspects of reality in the perception of contemporary life, as well as preserving valuable elements from traditional culture, has been a direction I have consistently pursued in my work.